ABOUT US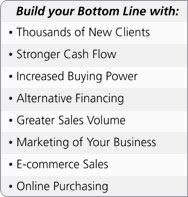 BarterPro, the Premier Online Trade Exchange with very low fees...

BarterPro, a partner in the world's premier Global Trade Alliance, gives you, the professional trader, the resources you need to build your bottom line without paying high brokerage fees to a traditional broker centric local trade exchange.

Save thousands of dollars in trading fees!

When you join BarterPro...


You will not pay the typical $300 to $1200 new member account setup fee as the fee to join BarterPro is zero!

You will not pay the typical $100 to $300 annual renewal fee as the BarterPro annual renewal fee is zero!

You will not pay from $10 to $20 each month in cash and trade that most barter exchanges charge.

You will not pay from 10% to 15% cash transaction fees that most barter exchanges charge.

Join BarterPro Risk Free...
No set-up fee, no annual renewal charge, no monthly fee for 12 months and cancel anytime you want.

No monthly fees for 12 months. Low fees thereafter...
Join BarterPro and your monthly fees will be zero for the first 12 months as long as you have an active credit card on file and active items listed for sale. After no charge for 12 months, the monthly fee will be just $3.50/month in cash charged directly to your credit card or checking account and $3.50/month in trade.

Low transaction fees for life...
Join BarterPro and pay just 4% transaction fees each time you buy on trade and conserve your cash or sell your product or service to new buyers locally, across the country or throughout the world. Your 4% fees are guranteed for the life of your account, even if trading fees increase.

Did you know...

Tens of thousands of business owners and professionals already trade in the global trade alliance. Earn Trade Dollars from these new customers and put your new purchasing power to work running your business, expanding your operations, or enhancing your personal standard of living without spending cash.

Unlike being a member of a small independent local barter exchange, member's of trade exchanges that participate in the vBarter Global Trade Alliance are empowered with online worldwide trading to assist you in facilitating trades locally, across the country or around the globe.

Your membership in BarterPro enables you to manage your account utilizing a state of the art trade account management system and gives you access to the global trade marketplace, where you can purchase products and services on trade locally or from around the globe, list your offers to a new network of buyers, search for travel opportunities, request reservations and search a global member directory.

Enhance your trading experience and apply for a trade account today.

View the product and service categories available on trade, the properties in our exchange and the media opportunities that can be paid for with your own excess capacity, production or inventory, by clicking on a link below...